With Christmas and the holidays right around the corner, start shopping now instead of waiting until the last minute! What better time to buy gifts than when they're on sale! You can stock up on comfortable flannel pajamas or fluffy slippers for friends and family! Get your loved one sexy boxers or pajama pants while treating yourself to a little extra something (because you deserve it!). A seductive nightgown or lingerie set is just as much of a present for you as it is for your partner!
Skip the long lines at the mall this year and get FREE SHIPPING on orders of $59 or more PLUS up to $50 off your order!
And TODAY ONLY as a special Black Friday treat, we'll also give you a $10 NTL Gift Card when you spend $100 or more! That's right, we're not kidding!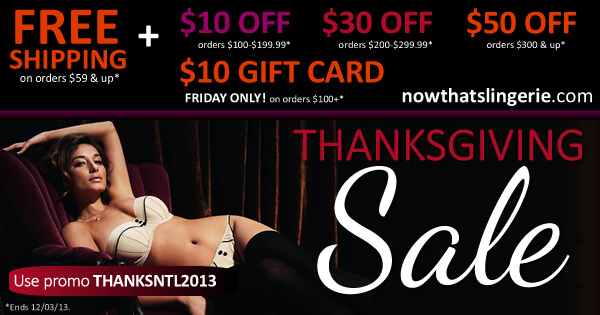 Click here to shop our Thanksgiving sale and get all the details about how much you can save!
Our sale ends December 3, 2013 so be sure to pick up your goodies at NTL!
Happy Thanskgiving, friends!
Felicia & your NTL Team
felicia@nowthatslingerie.com
Sources/References: All styles available at Now That's Lingerie