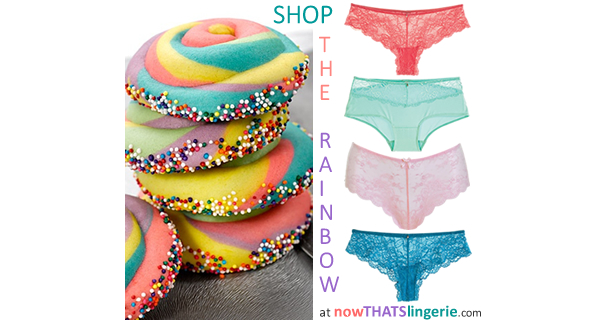 Shop the Rainbow at Now That's Lingerie
We just wanted to share this beautiful and colourful image with you before posting it up on our Facebook page!
Happy shopping weekend! 🙂
Click here to shop colourful & sexy panties at Now That's Lingerie
Rainbow pinwheel cookies image from: http://www.soudersstudios.com/recipes/rainbow-pinwheel-cookies.php
admin
After 25 years in the lingerie industry, I've helped thousands of women feel confident and look fantastic in their lingerie. I'm the resident Bra Doctor for Now That's Lingerie.com, which I founded over ten years ago as a way to help cater to the needs of as many women possible! I receive dozens of e-mails from women who can't seem to feel comfortable in their bras. I'm here to show that you CAN find a bra that works for you. Sometimes all you need are little tips! I hope you enjoy my bra fitting advice, experiences and thoughts. I'll also be sharing news about lingerie giveaways and deals that can't be missed. Contact me personally for personalized help finding your perfect fit: bradoctor@nowthatslingerie.com.