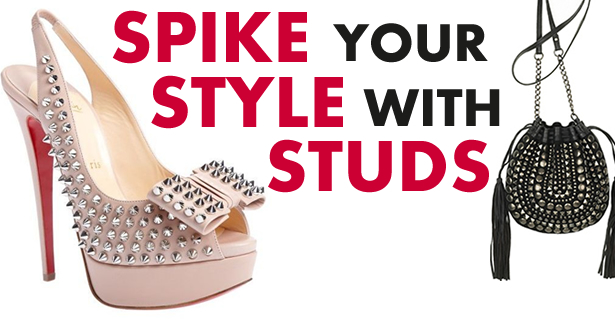 Spike Up Your Style With Studs
|
Everywhere I look, I see studs and spikes! What is it with this new trend that has inspired people to start studding and spiking their own clothing? It has become a fashion trend to proudly walk the streets in a studded crop top bra which they have designed themselves. I myself have even joined in on the trend and bought a pair of black leather combat boots with studs going up the back. Besides the fact that they're super comfortable, they look good with practically everything. I can pair them with skinny jeans and a top, black dress pants or even a skirt/dress. I've received so many compliments on them but mainly by men. That's when you KNOW you got a good buy. For some reason, it means so much more to me when guys actually take notice of something fashion related. Let's face it ladies, we spend hours accessorizing to make sure we paired our dress with the perfect shoes, bag and jewelry. There are few men who actually care. One of the guys actually said, "I really love your boots, gives you a bit of a rocker edge, just enough for a pretty girl like you to have some edge". I guess that's why it's became such a popular trend this season. Giving that extra 'je ne sais quoi' to an outfit! 😉
It's so easy to go online and buy yourself a massive stock of studs/spikes from Ebay and become crafty with DIY (do it yourself) projects. Because studs and spikes are so prominent, the rest of the outfit should complement them, not compete for attention… although of course it all depends on the look you want. I personally like the added 'edge' but I don't want it to overpower the rest of my outfit. I see some girls with studs and spikes on their boots, studded leather jacket with a Mohawk. Personally, that's just a little too edgy for me… I'm just a 'wanna-be bad girl'. So, what about adding some studs/spikes on the collar and/or shoulders of a leather/jean jacket but keeping the rest of your outfit toned down? I've also been seeing a lot of studded pockets on jeans and shorts. More recently, people have even started studding their phone covers. Because seriously, who doesn't want to be punctured by consistent friction from the studs against your inside pocket. Oh boy, the things we do for beauty and fashion!If you enjoy DIY, check out YouTube for some great videos that make adding spikes and studs to your clothes and accessories look SO easy!
There are many different ways to wear this trend but I suggest making one piece the focal point of the outfit. If you're very accident prone and don't want to risk potentially hurting yourself with a spike, I would suggest wearing studs instead. If you're still unsure but want to try the look, why not start with baby steps, like a studded bracelet? This studded/spiked jewelry (especially bracelets) have been spotted all over town. It's a way to add a little bit of spunk to your outfit.
Another thing that I've noticed is that studs/spikes are rarely seen covering the entire top. You will mainly find them on accessories such as handbags, shoes, jackets, pockets, gloves etc… In other words, you can look at your studded item as a statement piece. Here are a few ideal looks:
This amazing studded leather jacket from Top shop with Arianne's Daisy shaping scoop neck top. To complete the look, wear dark wash skinny jeans, black or brown ankle boots (heels or flats are both good) and a cute colored purse (maybe ash yellow, blue, black, brown or purple). This is a more casual everyday look using studs.
If you want to make your outfit even edgier and dress it up a bit, I would suggest wearing spiked heels. I love nude shoes in general; I find them very classy and sexy. Add those spikes to the back of your heel and you're a walking heartbreaker! 😉
For a more dressy outfit using studs/spikes I would suggest to start your outfit with Arianne's Diana Velour dress with padded sequinned bodice, then making it a little edgier by pairing it with a bright cropped jacket and this amazing spiked purse! Because the purse is so prominent, I'd match it with a cute bootie. You can dress down the outfit by wearing some ballet flats (maybe even adding a couple of studs on the front or back to make the outfit pop a bit more).
These are just a few looks that I've put together to show you how studs/spikes can be worn from day to night. Just on a note of caution ladies, please don't try and hurt anyone with your studs or spikes. They are not meant as a weapon but to make you look and feel even more fabulous than you already are! 😉
How do you like to dress up your studs and spikes?
Comment below, or tell us on our Facebook Page, Twitter or Pinterest!
Felicia