Hotter temperatures usually mean we reveal more skin than usual. That often means people are either ditching their bras or opting for strapless bras.
The strapless bra is still scary for some for a number of reasons. They can be a little bit tricky to shop for. There are some little tips to know to make the most out of your strapless bra, so you not only take advantage of what it can do for you, but you can also find one that is comfortable and actually stays on your body. 
That's right; strapless bras aren't all designed to just fall down all day. They can and will stay put when they fit right. If you want to learn how, keep reading.

Know Your Size, And Your Sister Size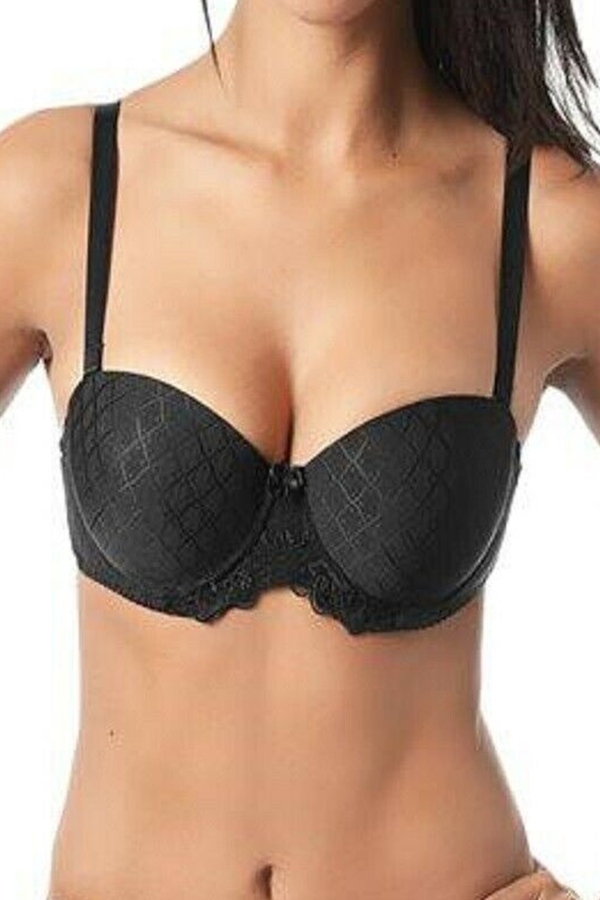 Obviously, you want to start with knowing what your bra size is. However, also knowing your sister sizes is important too, because you often have to play with sizing when it comes to strapless bras. 
With strapless bras, you might find you have to divert from your typical 36D, for example, and go for a 34DD or 38C to ensure that your strapless bra fits somewhat snugly on your body. You do not want your strapless bra to be tight or constricting. The cups should still gently hug your boobs, the underwire should sit underneath the bottom of the boob, and the band should still lay flat.

The "Up A Cup Size, Down A Band Size" Rule Might Not Work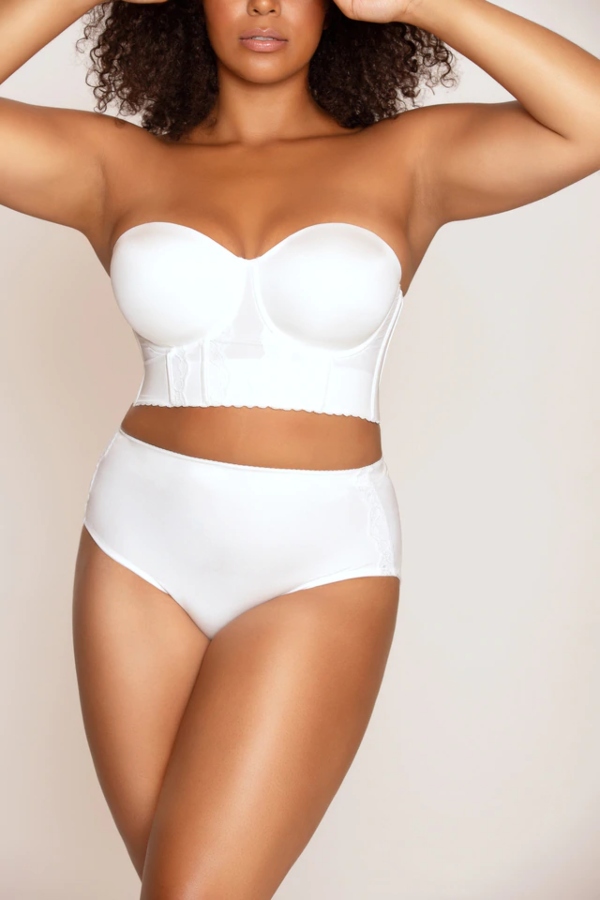 This might sound confusing based on the first point, but hear us out. 
You'll often hear a lot of bra experts say that for strapless bras, you should always go up a cup size and down a band size. For some people, this works. However, it's not always this simple. 
One of the most common fitting problems with strapless bras is the top of the cups having a gap, meaning your outfit doesn't sit properly on your chest. This might also mean the band doesn't lay straight, or digs into your back and creates back boobs that you probably don't want. 
You can try following this rule, but if it doesn't work, you may want to opt for lingerie accessories to create a more custom fit – more on this later.

The Band Fit Is Key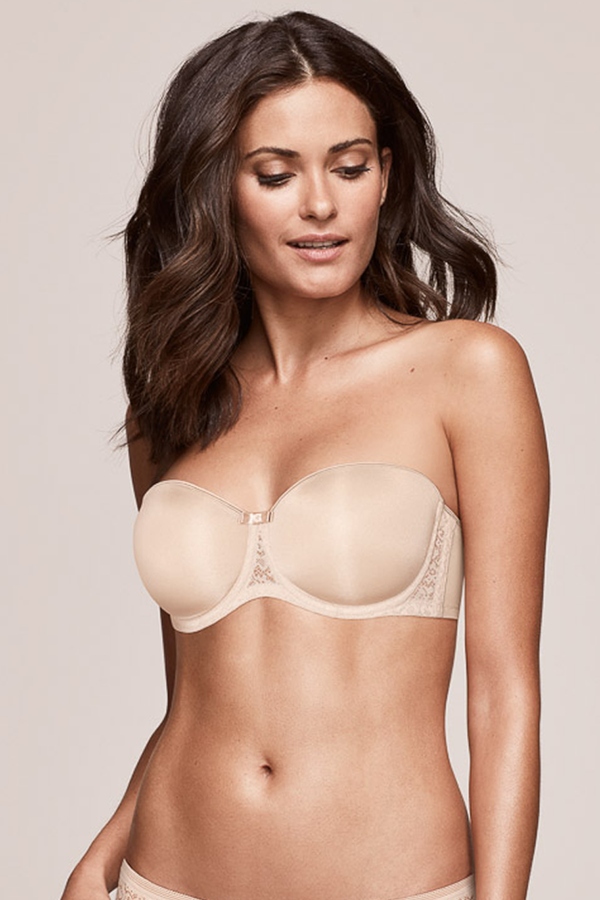 Your main source of support, especially from a strapless bra, is your band. That's why it's not only important that you opt for a good quality bra with a thicker band, but that the band fits you perfectly. 
Once again, the band should lay flat and straight along the bottom of your bust or the top of your ribcage, and should fit close to the body. You don't want it to be super tight; that will constrict you, and will not make the bra more supportive. You should be able to slip a couple of fingers between your back and your back band.

Look For Silicone Lining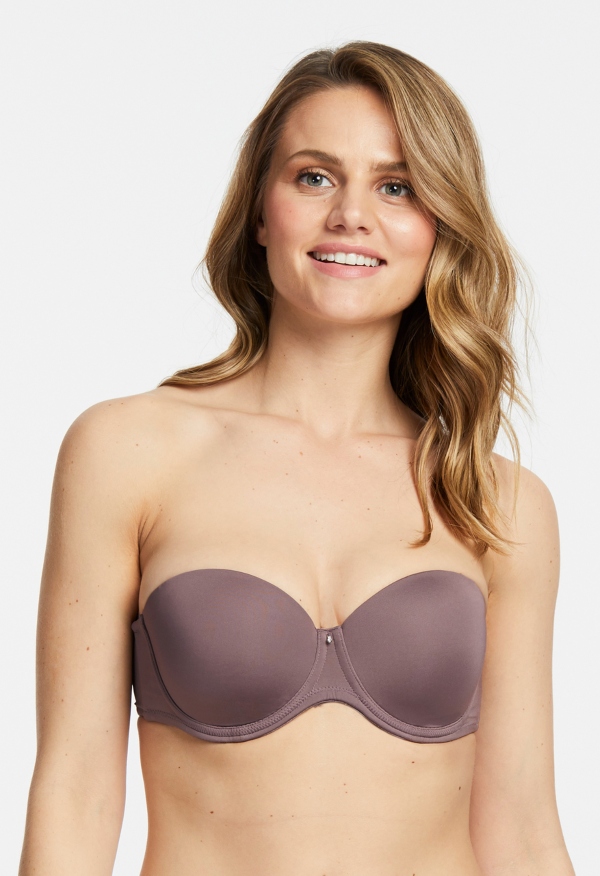 Most well-made strapless bras will feature some thin silicone lining at the top of the cups or on the underwire that is meant to help the bra stay in its place. Some people complain about it being warm or digging into their skin, causing irritation. That could be an issue if you have sensitive skin, but it could also mean your bra is too tight.
If you find a strapless bra that you love that doesn't have this, that's okay. If you want an extra addition to feel assured that your strapless bra will stay put, you'll want to read the next point.

Lingerie Accessories Can Help
We all need help sometimes, and the strapless bra is no exception. Because the fit of the perfect strapless bra is trickier than other bras, you might need some help from some lingerie accessories. 
When you're playing with sizing to find the optimal fit as we discussed above, you might find that as you go through your sister sizes, either the band is just that bit too tight or the cups fit great and the band doesn't. Bra back extenders can help with this issue, letting you change the size of your band without having to go up or down a bra size. 
If you're still concerned about any slipping around, body tape can help keep those cups in place. Similarly, translucent straps can add that extra support and security without ruining the look of your outfit. 
Will you try out a strapless bra with these updated tips? Or do you need additional help to find the perfect strapless bra? Leave us a comment below and we'll be happy to help. 
For more lingerie tips, follow us on Facebook, Twitter, Instagram, and Pinterest. 
Yours In Lingerie, 
Celine, The Bra Doctor