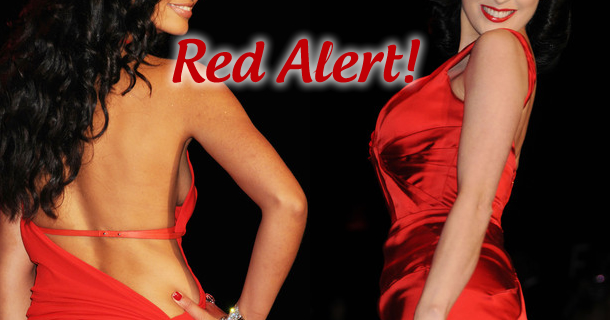 Red Alert
|
The hot colour trend for fall is Red – not a dull red but a vibrant red. My best friend was in a wedding and her bridesmaid's dress was a gorgeous red, very radical. Red is the fall fashion code, it makes you stand out and brings out your wilder and sexier side. Red was seen in accessories and ensembles at Fall Fashion Week, showcased in many designer shows from Michael Kors, to Jason Wu, Chado Ralph Rucci and BCBG Max Azria. Valentino has had the colour in his collection for the last four decades. A courtier at the show said "Women usually prefer to wear black at events because it makes them feel safe, however, if there's one woman wearing red, she will inevitably be the eye-catcher of the evening."
There are many shades of red: blood red, blush, brick, burgundy, carmine, China red, cinnabar, crimson, fire engine red, flame, Indian red, maroon, ruby, russet, rust, scarlet, tomato, Venetian red, vermilion & more. Red is the colour of conflicting emotions from passionate love to violence and warfare. Red is Cupid and the Devil. It's the hottest of the warm colours.
Studies even show that seeing red can have a physical effect, increasing the rate of respiration and raising blood pressure. It's also the colour of power – just think of business people in a power red tie – and it's always a hot colour for celebrities to wear on the 'red' carpet.
In some cultures, red denotes purity, joy, and celebration. Red is the colour of happiness and prosperity in China and may be used to attract good luck. It is a passionate colour that can signal a love that transcends time, so if you have a certain someone, catch their eye by wearing red.
So for this fall sport RED and feel fashionable, powerful and sexy!
Connect with us via email, Twitter & Facebook!
Julie
julie@nowthatslingerie.com
Image sources & references:
http://www.fashionmagazine.com/blogs/fashion/2011/08/09/fall-2011-trend-report-83-of-the-best-bets-in-coats-dresses-shoes-bags-and-more/
http://www.weirdasianews.com/2008/10/13/red-chinas-color-fire-celebration/
http://www.zimbio.com/pictures/AguZLiGpBwg/Heart+Truth+Red+Dress+Fall+2011+Fashion+Show/4CSU23JFPLi/Dita+Von+Teese 
http://www.zimbio.com/pictures/AguZLiGpBwg/Heart+Truth+Red+Dress+Fall+2011+Fashion+Show/AxxiXT0JlJ4/Camila+Alves