When you're stuck at home, it's a little hard to find motivation to stay productive. Why would you want to work out when you could just lounge on the couch?
Finding a workout routine that works with your schedule and your lifestyle is one of the best things you could do for yourself right now. Even just a little bit of activity could work wonders for your physical and mental health. 
Not everyone has access to a home gym and that's okay. We definitely don't, but we've found little ways to work out and stay active at home. We want to share them with you in hopes that it'll inspire you to start your own routine at home!

Yoga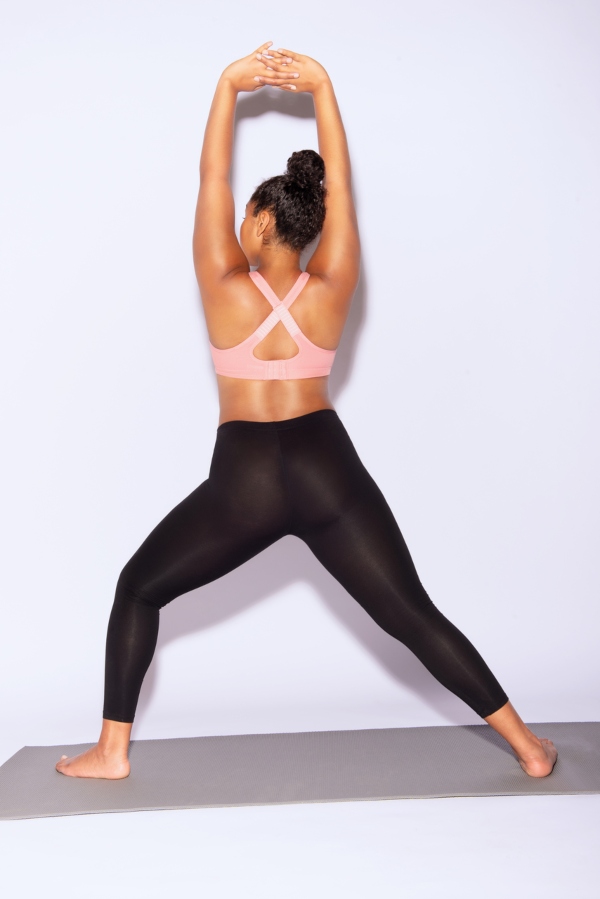 Yoga is so popular, and for good reason. You don't need a lot of space, you don't have to be super flexible (believe it or not), and it's as good for your brain as it is for your body.
It doesn't matter if you've never done a yoga class; you can find ample beginner yoga routines that work for you. Sarah Beth Yoga has a YouTube channel with various yoga routines for beginners that start small at just 10 minutes. This routine from Mad Fit is targeted towards stress relief, which we could all use right now. We also like Body Positive Yoga for her routines and her positive messaging!
You can take your phone outdoors to a safe outdoor space and enjoy some fresh air, or put a mat or blanket down on the living room floor and you're good to go. 
Just don't forget your sports bra no matter what kind of workout you're doing!

Stretching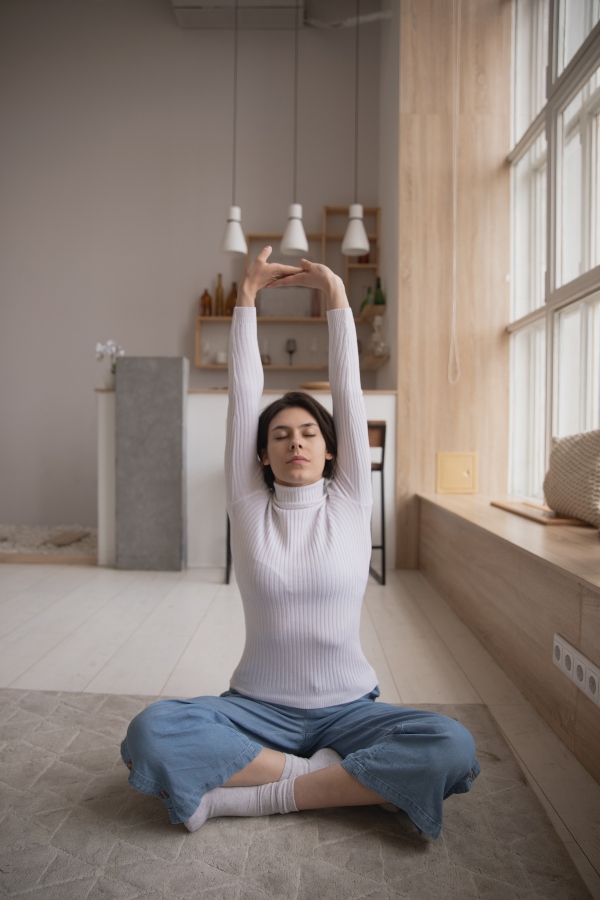 Stretching may only seem like something you should do before a workout, but it really is a workout in itself. Everyone should make an effort to stretch every single morning. 
Stretching obviously helps reduce the tension in your muscles, but it also helps wake you up and gets your body motivated. Stretching doesn't take a long time, and you don't even need to get out of bed to do it!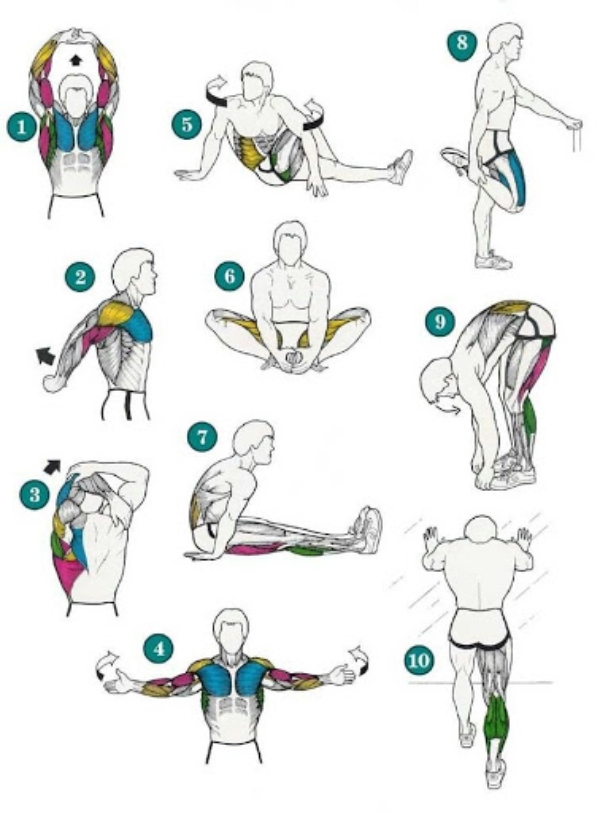 You really can do a number of stretches, but the infographic above from Freedive Earth shows some really common stretches we do all the time. 
YouTube Is Your Friend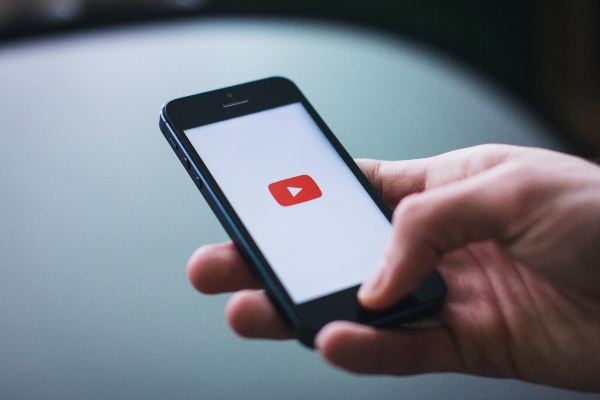 It can take some trial and error to find a workout that inspires you and keeps you motivated to keep going. That's why we love YouTube!
If you like dancing, search up Zumba, Samba, or even try following a choreography tutorial. If you don't know what you like, a simple cardio class is a great one to follow along. We like typing random things into YouTube to see what we can find. 
YouTube is absolutely your friend, and thankfully it's accessible for most of us.

Use What You Have At Home For Weights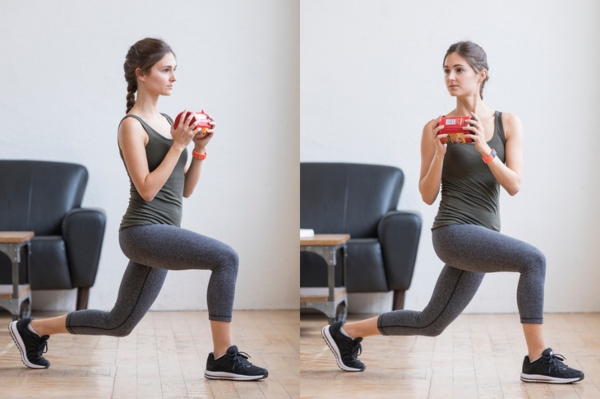 If you don't have access to any type of equipment at home, you just have to get a little bit creative. 
Weight training is an extremely effective workout, and one that a lot of us tend to overlook for cardio. Weight lifting doesn't have to be hard or for solely building muscle either. Try a can of beans, a filled water bottle, or anything around the house that weighs even 5 or 10 pounds. You don't need a heavy weight to have an effective weight lifting workout. Pinterest and YouTube are also awesome places to start getting inspiration – we like searching both up every now and then to find new ways to do things. 
As you can see, it doesn't take a lot of effort or creativity to find an effective at-home workout that you can tailor to your own taste. All that matters is that you try. You can start small, too. Give yourself 10 or 15 minutes, and work up from there as you can. Don't forget to drink water and get lots of sleep as well!
Are there any at-home workouts you're using right now that you like?
Please share them in the comments so we can try them too!
For more at-home wellness tips, follow us on Facebook, Twitter, Pinterest, and Instagram. 
Yours In Lingerie And Wellness, 
Celine, The Bra Doctor

At-Home Workouts
,
Easy Exercise Routine
,
Easy Workouts
,
exercise
,
Exercise Routine
,
fitness
,
health
,
Love Your Body
,
Mental Health
,
Online Classes
,
Online Tutorials
,
Physical Health
,
Pinterest
,
Self Care
,
Self Love
,
sports bras
,
Stay Home
,
Stretching
,
Weight Training
,
Workout At Home
,
Workout Ideas
,
yoga
,
youtube