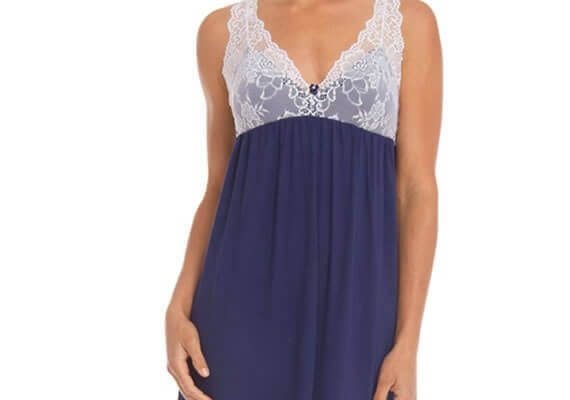 Raquel Lacy 34" Chemise With Removable Pads by Arianne Lingerie
Lingerie Inspired Dresses For Every Budget
|
If you can't tell already, we just can't get enough of the lingerie inspired trend. One thing we notice is that when a certain trend gains traction, clothing stores and designers will milk it for all it's worth. That means they create their own variations of a certain trend, and due to demand, can justify hiking up the prices as they know how desperately people want those particular garments. With enough searching, though, you can find that special trend you want for a great deal. When it comes to lingerie inspired dresses, we wanted to do all of the searching for you because we are obsessed with this trend and know you probably are too! You can find some great slips and chemises that fall into this trend on #ShopNTL, or see our list of lingerie inspired dresses for every budget. A note about shopping on Now That's Lingerie: while you're looking through our various pages, you can shop any of them by price point by following the menu on the left of the page.
$10-$30
A simple, strappy slip dress is the easiest way to capture a lingerie look, and you wouldn't believe how inexpensive it can be. This simple striped slip from Wet Seal is a very flattering look for all, and the easygoing of the swing dress from Boohoo is the cutest day to day dress option for an amazing price.
$30-$60
The contrast of the purple slip dress from Express against its black lace trim is so gorgeous and reminds us of a vintage nightie with a modern twist. Similarly, the long pleated number we found on ASOS is not only on sale, but has a great flow to it that swings with you as you strut around in style.
$60-$80
Everyone needs a dash of a bright colour! Get yours with a very sexy bright pink slip dress from Band of Gypsies that would look so cute with tights and cute flats. If pink isn't your thing, go rockier with a bustier top dress is a cool faux leather to take a cue from the edgier side of lingerie.
$80-$100
This very bright and colourful maxi dress from H&M brings us back in time to the 70s, as we can imagine ourselves sauntering out of our rooms every morning in a night dress like this. On the other end of the spectrum, this bodycon dress by Missguided with a constructed top features elements of a bustier for a gloriously sexy fit.
$100+
A nice, white lace dress is demure and elegant, but always reminds us of a sweet night dress. This one from Love and Lemons is a little bit sexier, with sheer elements and a small plunge in the front. A satiny slip dress with some lace underlay panelling has us wanting to plan our next date night.
Which one of these lingerie inspired dresses is your favourite? Share your thoughts with us in the comments below, or start chatting with us on Facebook and Twitter. You can also follow us for more fashion inspiration on Pinterest, and learn more lingerie tips and tricks from our YouTube videos.