None of us are immune to the constant battle between loving our bodies and being mean to our bodies. It's unfortunately a lifelong journey, but it's oh so worth it!
We've fought a constant battle against changing beauty and body standards, Instagram vs reality, Photoshop, the modeling industry, and nasty comments online. We deal with celebrities who go through expensive treatments and edit their photos to the point where they don't even look like themselves once the photos get published. With all of these images that still exist on our timelines, how do we ever learn to stop comparing ourselves to something that is obviously not real?
Let's break down some of the most commonly shared body insecurities.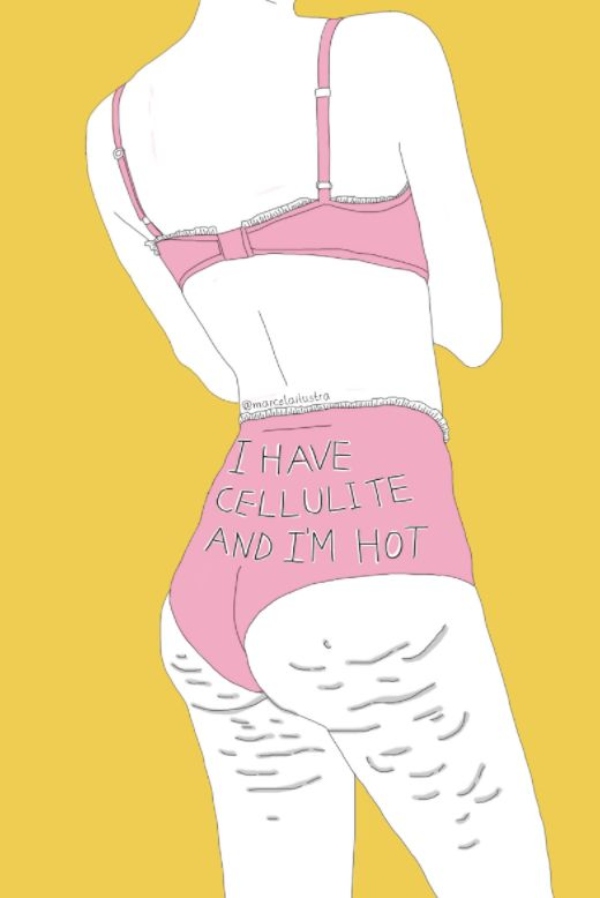 Cellulite: Cellulite is wrinkling or dimpling of the skin, usually found on the legs, bum, arms, and stomach, and sometimes on the breasts or other areas of the body. And most women have it! Some men have it too. It has nothing to do with weight; it's just something that most of us have. Why are we so insecure about something we all have? 
Well, partially because there is a whole industry of beauty products and treatments that claim to get rid of or reduce cellulite – and guess what; most of it doesn't work! Plus, one of the most commonly photoshopped things on a body is cellulite. It's nothing to be ashamed of, and just because it looks like your favorite celebs don't have it, chances are they do. Because it's NORMAL and there's nothing wrong with having it! So don't hide it, especially in the summer. Wear that short dress and that bikini, because chances are, no one even notices your cellulite or cares, because they have it too.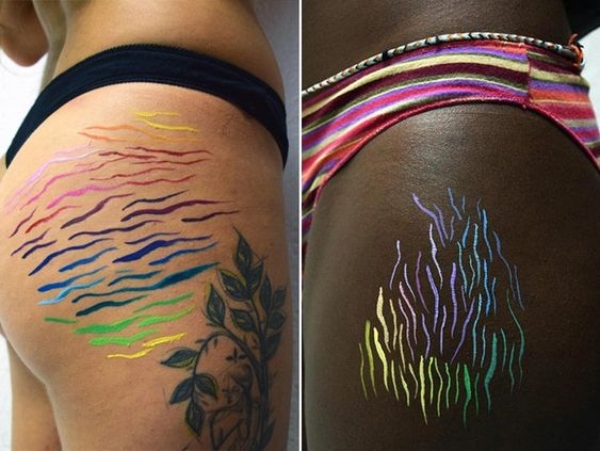 Stretch Marks: Stretch marks are tears on the skin that tend to form due to rapid weight gain or loss. Even though our skin is elastic, there is only so much repairing it can do. Most of us will experience stretch marks because of puberty, weight changes, pregnancy, and just simply because our bodies change over time. 
Just like cellulite, there is an industry that tells us stretch marks are undesirable and there are products and procedures to get rid of them. Surprise: most of those treatments don't work either. 
There's been a movement within the overall body positivity movement to embrace stretch marks, which is fabulous to see. For many, they are the markings of something beautiful, especially for those who have experienced pregnancy. You grew a life inside your body! How cool is that? They are also a symbol of growth, of change, and they aren't something to be ashamed of. Most of us have them too.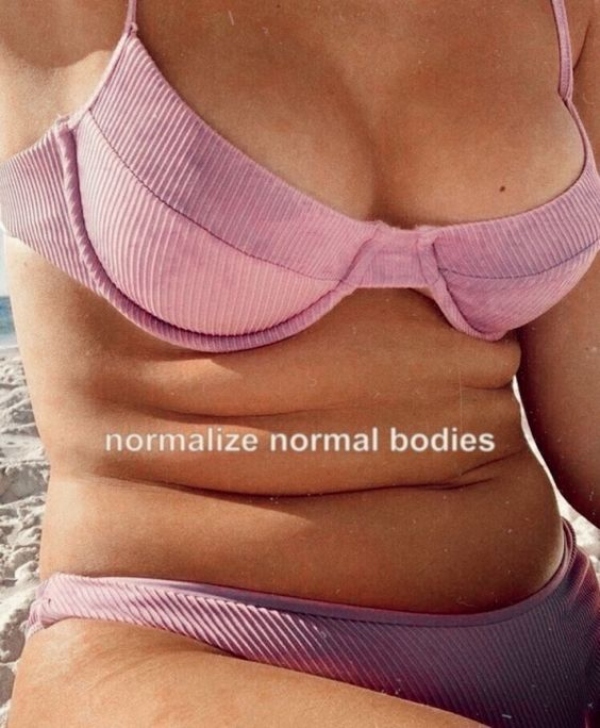 Tummies: Ahh, the tummy. If you were to ask most people what they are most insecure about, how many do you think will say their tummies? 
We're taught to want flat tummies, tummies with visible abs, tummies that don't have rolls when you sit down – but in reality, almost no one has an actual flat tummy. Some of us have little pouches we can't get rid of, either because of pregnancy or health issues. Some of us are just curvy. Some of us aren't curvy, but still experience a roll or two when we sit. Because that's – say it with me – NORMAL!
Our tummies are not something to be sucked in, squeezed in, or hidden from the world. Sure, it's been happening in fashion for years. A simple pose or camera angle trick can make you believe that someone's tummy is as flat as a board, but it's not real. You've probably seen those photos where even just pulling up a panty or bathing suit bottom can dramatically change the way a person's tummy looks. It's all a facade, and we need to stop buying into it.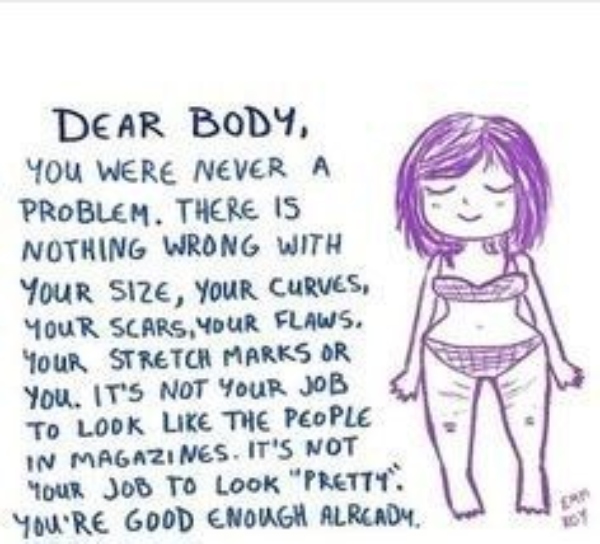 There are so many other insecurities we have probably all battled with in our lives. These are just a couple of examples, but with any insecurity that exists, one simple truth remains the same: These insecurities were created by industries that want to profit off of us not feeling good enough. It's time for us to own our body insecurities, realize that there is in fact nothing to be insecure about, because these things aren't actually flaws. They are just facets of our bodies that exist. We're all going to have bad days, but one day, I hope you can look in the mirror and embrace ALL of you – because we're all beautiful! 
Do you struggle with body insecurities? Share with us any tips or advice you may have that has helped you on your journey to learning to love your body in the comments!
Be a part of our empowering self-love community on Facebook, Twitter, Pinterest, and Instagram. 
Until next time, 
Alicia
*Feature: Image via Etsy Joo Joo on Flickr